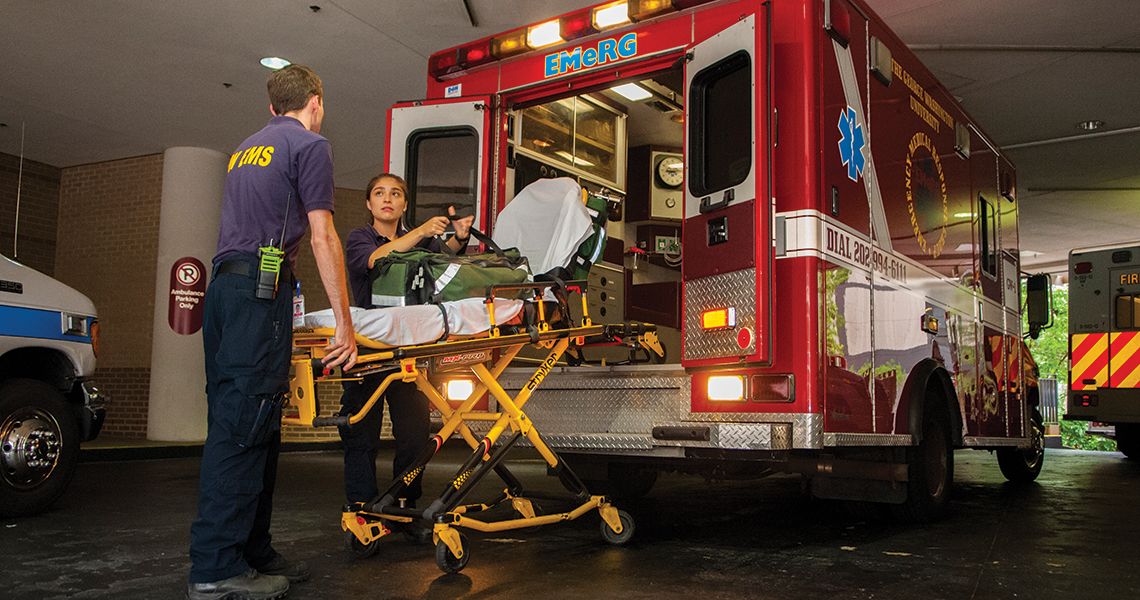 The Emergency Medical Services (EMS) program offers an on-campus, for-credit Emergency Medical Technician (EMT) course.  EMT training is the first step towards seeking certification as an EMT with the National Registry of EMTs, and starting a career or seeking volunteer opportunities in EMS.  This could include working or volunteering with a fire department, a municipal EMS service, or with a private EMS company.  It is also a requirement for individuals who would eventually like to seek Advanced EMT or Paramedic certification.  Our program does not currently offer training above the EMT level.
In this course, you will learn the fundamentals of patient assessment and how to deliver hands-on lifesaving emergency care outside of the hospital, as well as how to safely package and transport patients of all ages in an ambulance.
The EMT course is an intense training experience and consists of two classes-- a lecture and a lab-- and is open to GW students, the GW community, non-degree, and consortium students.  Both classes must be taken concurrently.  Non-degree students do not earn degrees from GW, but can take the EMT course for a grade, college credit, and receive an official academic transcript.  Consortium students need to begin the registration process at their home school's consortium office.  
The EMT course consists of the following classes:
EHS 1040 EMT-basic lecture (3 credits)
EHS 1041 EMT-basic lab (1 credit)
These courses are only offered for college credit.  These courses can not be taken for certification nor can they be audited.
If you have further questions about the EMT course, please contact Prof. Craig Evans at craigevans@gwu.edu.  
Prerequisites
Students must earn CPR Health Care Provider certification prior to (or during) the course. Students can take the one credit on-campus course offered through the EMS Program (EHS 1002 – CPR/First Aid). In addition, the GW Training Center offers CPR certification courses regularly throughout the year.
Tuition
Each credit hour is $1,995.00 equaling $7,980.00 for the full semester.
To learn more, please visit the Office of Non-Degree Students' Tuition page.
Admission
Please refer to the Office of Non-Degree Students.
What Students Are Saying
"I recently started on my first day of Emergency Medicine Residency, and I can say without a doubt it was your EMT class that I took as a freshmen at GW eight years ago that set me on this path. The lessons I learned in your class are still being put to use in my practice until today. I hope you are doing well and continuing to inspire students like myself." - Imran F., past EMT course student